SAM HYDE RETURNS TO SCATTER
Are you ready?
THE MONDO MEN COMETH
Do you have what it takes?
To change?
To go one step beyond?
To be a MONDO MAN?
Scatter is pleased to be the new home of MONDO MEGABITS a digital trading card NFT collection from the minds of Sam Hyde and JetNeptune.
Mint, collect, trade, and evolve as you navigate the technocratic utopian hellscape that is the world of Mondo Megabits.
Featuring 3000 cards of varying meanings and rarities, the Mondo team has crafted a complex and compelling card scarcity system that is sure to excite collectors and speculators alike.
Factions​
NEW FACTIONS NEW TECH NEW ENTITIES
Mondo Megabits is dripped in deep esoteric lore that only the patrician intellectual may ever come close to fully grasping (ᎠϴΝͲ Ꭰϴ ᎠᎡႮᏀՏ, ᏴႮᎽ 𝗠Ø𝗻𝗱𝗼 ᏆΝՏͲᎬᎪᎠ). The Mondoverse is a cruel technological snakepit populated by the sorts dangerous, disturbing, and fascinating characters that could only come from the minds of Mondo's storied team.
This drop introduces two factions to the ever growing world of Mondo Megabits, FEMACUBE and BUMLEGION 2099.
FEMACUBE- The ALL POWERFUL ALL LOVING(TM), GOVERNING ENTITY OF THE MONDOVERSE. An oppressive regime ensure that you citizen not only eat the bugs, but become a bug yourself. A MECHAZORD of former three letter organizations, FEMACUBE is the principle entity making up FEDGOV. 
To ward off the inefficiencies of archaic 'checks and balances', F.E.M.A.C.U.B.E.³ was created to reign over the FBI, CIA, NSA, SHNASA, DHS, IRS, Coast Guard, and the President. Dispatch officers are instructed to stamp and approve any initiative that crosses their desk. This is an autocracy.
BUMLEGION 2099 - The OPPRESSED PROLETARIATE preparing to take back what is theirs. The increasingly disgruntled bums are armed peepee and poopoo and industrial cleaning product, and they WILL seize the wealth one Jenkem cloud at a time.
A 600 year-old jailed cryo-bum is broken out of stasis by his comrades, seconds after waking up he's asking for jenkem and whippets. The reunited squad heads to the latrine to do a bit of heroin and clean up — a long night awaits. Tonight, they take back ███████ ████████ █ ███ █ from their oppressors.
Read More About the Factions on the Mondo-Verse HERE: https://www.mondomegabits.com/lore
Card Anatomy​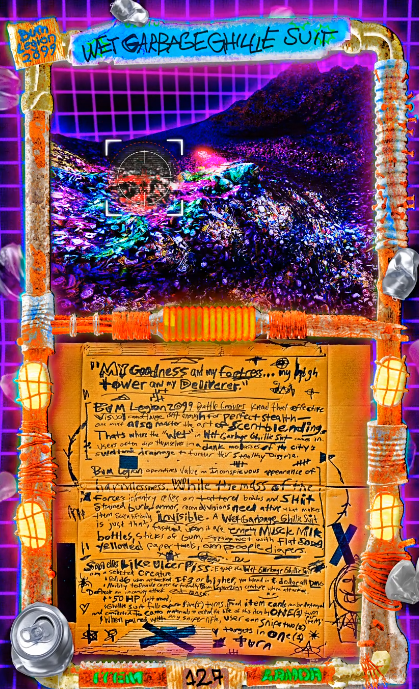 Every MONDO MEGABITS card contains original animated art work, created and curated for only the most hip in-the-know COOL ONLINE guys, placed in a frame determined by each card's FACTION. 
Each card also explains a detailed description outlining its abilities and place in the MONDOVERSE. There are various TYPES of cards including but not limited to creatures, buffs, challenges, agendas, and items. Each card type is different and will serve a specific purpose in future Mondo output.
Rarity Rankings ​
Mondo Megabits has a tailor-made rarity ranking system that will feel both familiar and refreshing to fans of classic TCGs. Cards are assigned a rank from R1 up to R6, with R1s being the most common cards (low status, get your money up player), and R6 being reserved for highly coveted hyper rare 1/1 cards (sacred holy religious artifacts possession of which will alter the destiny of entire bloodlines).
Rarity distribution is as follows: 
TOTAL CARDS 3000
| Rank | Number of Cards | Percentage |
| --- | --- | --- |
| R1 | 999 | 33.3% |
| R2 | 884 | 29.47% |
| R3 | 576 | 19.20% |
| R4 | 399 | 13.30% |
| R5 | 130 | 4.33% |
| R6 | 12 | 0.40% |
Affiliates​
Like many great Scatter collections before it, Mondo Megabits is offering members of the community the chance to earn a share of mint proceed through referrals. When you enroll in the Mondo affiliate program, you will be given a personalized link to share with others.
𝑶𝒏𝒍𝒚 𝒕𝒉𝒆 𝒔𝒕𝒓𝒐𝒏𝒈𝒆𝒔𝒕 & 𝒃𝒓𝒂𝒗𝒆𝒔𝒕 𝒂𝒓𝒆 𝒓𝒆𝒂𝒅𝒚 𝒇𝒐𝒓 𝒕𝒉𝒊𝒔 𝒅𝒓𝒐𝒑. 𝒀𝒐𝒖𝒓 𝒑𝒂𝒕𝒊𝒆𝒏𝒄𝒆 𝒔𝒉𝒂𝒍𝒍 𝒃𝒆 𝒔𝒂𝒕𝒊𝒂𝒕𝒆𝒅. 𝒀𝒐𝒖𝒓 𝒔𝒂𝒍𝒗𝒂𝒕𝒊𝒐𝒏 𝒊𝒔 𝒏𝒊𝒈𝒉. 𝑴𝒐𝒏𝒅𝒐 𝒎𝒊𝒍𝒍𝒊𝒐𝒏𝒂𝒊𝒓𝒆𝒔 𝒔𝒉𝒂𝒍𝒍 𝒃𝒆 𝒎𝒂𝒅𝒆.
Joining the Mondo Megabits affiliate program is easy. Go the Mondo Megabits mint page, connect to the site, go to the affiliates tab, create your affiliate link, share your affiliate link, become a Mondo Millionaire. Depending on the price of ETH at the time, you'll earn about $50 per mint from your link.
Use someone's affiliate link? You'll get a 10% mint discount.
When people mint using your affiliate link you will receive 20% of the mint proceeds on chain. You can then withdraw these proceeds from the affiliate tab of the collection at any time. Those earnings are yours, stored on the Mondo Megabits contract until you and only you withdraw them.
What are you waiting for? Join the Mondo Megabits affiliate program now.
Randomization​
Scatter's Integration with Chainlink VRF​
Generating true randomness in Ethereum poses challenges due to the deterministic nature of the blockchain. Scatter's solution incorporates Chainlink's Verifiable Random Function (VRF) to address this problem in token minting.
Chainlink VRF Explained​
Chainlink VRF is a randomness solution designed specifically for blockchain applications. It produces a random number that is both unpredictable and verifiable on-chain. This is achieved through Chainlink's decentralized oracle network, ensuring a reliable and tamper-resistant source of randomness.
Issues with Traditional Randomness​
Using standard random number generation on the blockchain can introduce vulnerabilities, such as potential exploitation by Miner Extractable Value (MEV) bots. Traditional methods are often predictable, making them unsuitable for applications requiring genuine and fair randomness.
Scatter's Implementation of Chainlink VRF​
Chainlink's VRF is a pivotal element in Scatter's minting process, ensuring transparency and fairness. By integrating Chainlink VRF, Scatter enhances the security and reliability of its token minting mechanism where a random result is necessary.
Upon a minting request, Scatter doesn't randomly choose a token from the tokenPool. Instead, it queries Chainlink VRF for a random number. This number determines the token selected for minting, ensuring the process is both fair and resistant to external influence.
After you mint, you will not get your cards right away. Instead your mint will be put into a queue for Chainlink to process. Once it reaches your transaction, which should at most take 30 seconds to a few minutes, your random card mints will arrive safely in your wallet.
Request-Response System​
A notable feature of Chainlink's VRF within the context of Ethereum is the two-transaction system. The randomness request and the response from the Chainlink oracle constitute two separate Ethereum transactions:
Request Phase: The consumer smart contract sends a transaction to request randomness from the Chainlink VRF.
Response Phase: After a certain number of blocks, the Chainlink VRF oracle sends a transaction back to the consumer contract with the generated random number.
The delay between the two transactions ensures:
Security: A buffer period that makes attempts at predicting or manipulating the randomness harder.
Verifiability: A consensus on the authenticity of the randomness, as the data is processed by multiple nodes.
This means that upon a minting request, there might be a brief delay before the random token is minted, ensuring the Chainlink VRF process is both secure and verifiable.
Token Pool​
The Token Pool in Scatter is a dynamic list of available tokens. As tokens are minted, they're removed from the pool to guarantee uniqueness. The size of this pool decreases with each minting operation, indicating the dwindling availability of fresh tokens.
Example of Token Pool Removal Logic:
Imagine a tokenPool that starts with 5 tokens: tokenPool = [101, 102, 103, 104, 105] When a minting request is made and a random index is determined (let's say index 2), token 103 is selected for minting. To ensure this token isn't minted again:
The token at the selected index (103 in this case) is replaced with the last token in the tokenPool: tokenPool = [101, 102, 105, 104, 105] The last entry in the tokenPool is then removed: tokenPool = [101, 102, 105, 104]
This logic ensures efficiency, especially for larger token pools, and guarantees that every minted token is unique in Scatter's system.
Looking Forward​
Scatter ██ ███████ ██ ████ ████ ████ MONDO MEGABITS ██ ████ ████ █████████. ██ ████ ███████ ██ ███████ ████ ███████████ ██ ███ ██████.
███ 『FAKE TECH』 ███████ ██ █████ ████████ ██ █ ███████ ████████ ██ ██████ ████████████ ████ █ ████████ ██████████ ███ █████████████ ████████████ ██████ █ █████████ ██ ███ ████████ ███ ███████████████ ██ ███ 『FAKE TECH』 ████████
████████ ████████ ███ ███████ ██ ██████████ ████ ███ ███ ███████ █████████ ███ ███ █████ ██ ██ ████████ ██ ███████████ ████████ █████ █████████ ██████ ██████ ████ ████ █ ████ ██████ ████ ████ ███ █ ███████████████ ███████████████ ██ ███████ █████ ████ ████████ ████ ███ ██████ ███████ ██ █████ █████ ███ █████ ███ ██ ████ █████ ███ █████ ███████████
██████████ ██████████ ████ ████ ██ █████████ ██ █ ███████ ██████ ████ ███ ███████ ████ 『FAKE TECH』 ██████████ ███ ███ ████████ ███████ ██ █████ ██ █ █████ ██ ████ ███████████ ██████████ ████ █████ █████ █████ ████████ ████ ███ █████ ██ ████ ████ ███ ███ █████████ █████████ ████ ███ ███████ ███ ██ █████ ████████████████